Celebrity New Years Parties in New York
December 31st, 2012 9:00 pm - 9:00 am
Tickets: $ 25 - $ 95
Buy Tickets
Eddie-O & J.Berry In


Association with www.CelebrityNewYearsParties.com Proudly Present...
New York City
Celebrity New Years Eve


2013



Parties
Providing nothing but the Best for Your New Years Eve Experience

In All Boroughs!
Featuring
Amnesia Nightclub,Allure Ultra Lounge,
Club Perfections Gentleman's Club. Jaguars3,
Club Rebel, Rokk City, Glazz & Much More
With Special New Years Eve Sets from
Dj Self, Dj ProStyle, Dj Bobby Trends, Dj Enuff, Dj Camilo, Alex Sensation,
Surprise Celebrity Guest Dj's/host and More!

Whether it's Roof Top, Night Club, Lounge, Bar, Gentleman's Club, After-hours
We Got You Covered!

Many Venues will Be showing the Ball Drop Live while EVERY venue we have will Provide a 12am Champagne Toast to bring in the New Year!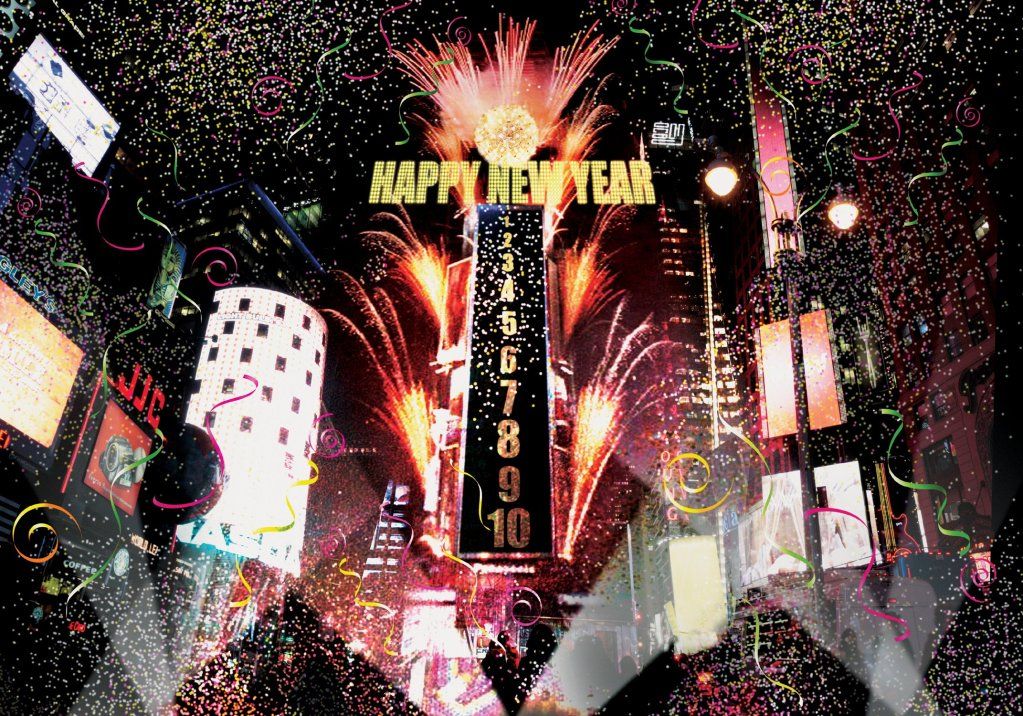 Club Amnesia NYC
609 w29st New York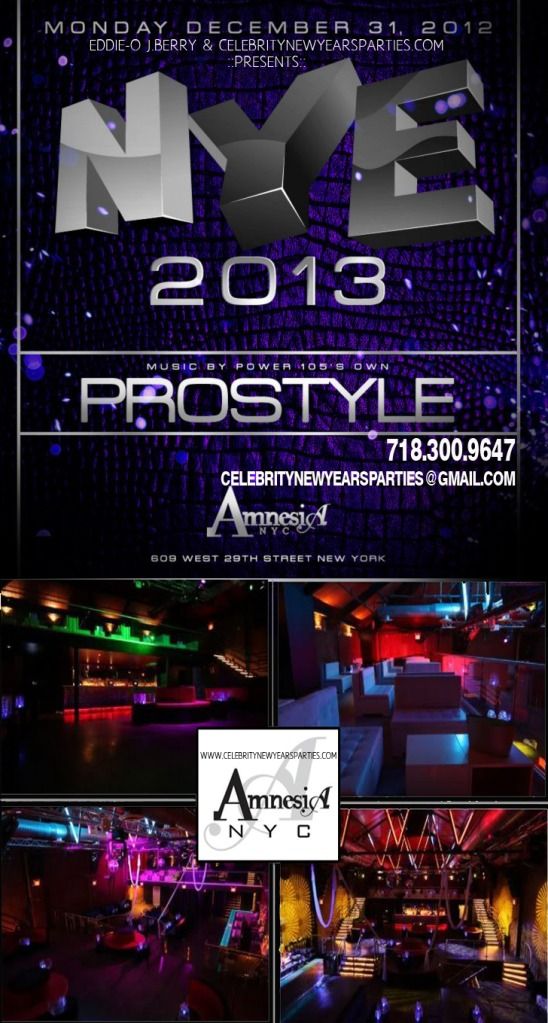 Club Amnesia Beautifully Decorated to compliment the Beautiful Mixed Crowd as Power 105's
Dj Prostyle Brings you into the New Year in this Ultra Sexy 3 Level Complex+
Click Here for Tickets
http://ow.ly/ghn5C

Info



Pockets a little tight because of The Holidays? We got you covered with our 3rd Annual


WHY PAY MORE!?!
New Years Eve
Hot 97 Live Broadcast at
Club Rebel!
251 West 30th Street, New York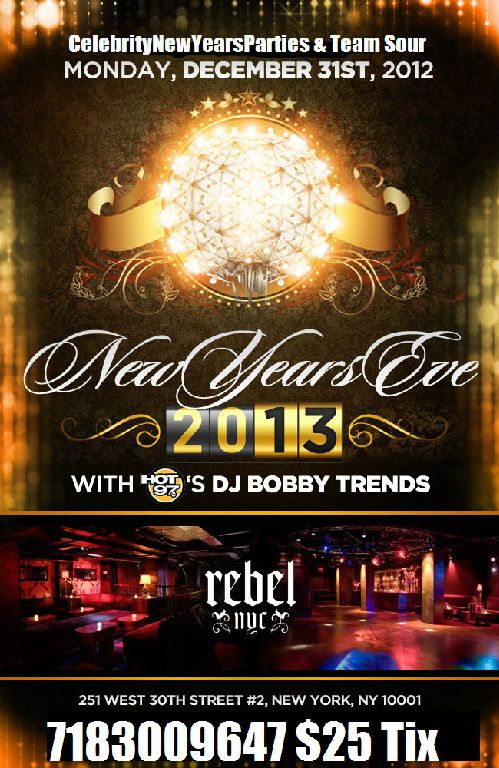 For tickets

Click here



http://ow.ly/gnaJU

Rokk City New York
20 West 39st New York
Rokk City Features Amazing top40 Dj's

and
Appetizers while Providing a 5hr OPEN BAR Amazing Space to let in the New Year

Info
Perfection Gentleman's Club/Club Pure Queens New York
62-05 30Th Avenue Woodside Queens
DJ Self Dj Envy Dj Prostyle Dj JayFive Turn up this Party from 9pm to 9am!
Thats Right 12Full Hours of Partying with the Most Beautiful Exotic Dancers In the Tri-State

Buy Tickets Here
http://ow.ly/ghnd2

Info
Jaguars3


225 47st between 3rd & 4th Ave
Brooklyn Brooklyn Brooklyn!!!
Don't Want to Leave the Boroughs But want a City Experience?
Jaguars3 Provides you with Non Stop Excitement with it's 3 tier Complex with a Full Club, A Full Italian Restaurant, and a Full Cabernet
In No other Place in NEW YORK CITY will you experience such a Jungle Exotic Theme Decor venue with Dj Enuff & Dj Spin King expect nothing but None Stop 12hour Action!
Purchase your Tickets Here
http://ow.ly/gho8V

Info

Allure Ultra Lounge
33-02 Queens Blvd Queens New York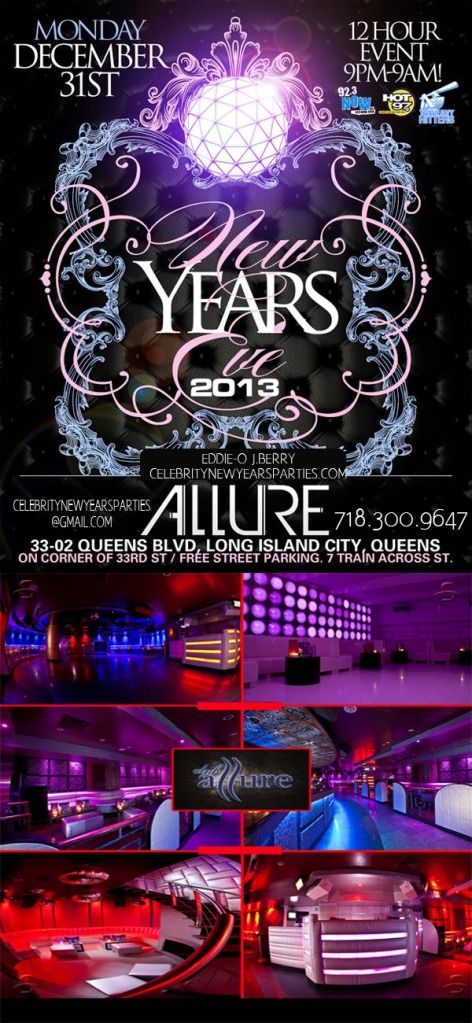 Allure Ultra Lounge Is the Newest Sensation Queens have to Offer and they Want You to bring in they First New Years Eve with Open Bar Appetizers After Hours and nothing but non stop music from the Tri-States Best Crowd Movers From Hot97 & 92.3Now

For Tickets Click here
http://ow.ly/ghnRd

Info

Please Check www.celebritynewyearsparties.com
for Daily Venue Add-ons as our main goal is to give you the most memorial

Positive New Years Eve experience



Dress Code for All Venues
Privileged
SEXY & CHIC Attire is a Must!!!
Absolutely NO Fitted Hats / NO Work Boots / NO Athletic Wear of Any kind.
21 & Older to Attend. Valid State ID or Passport Require


-----------------------------------------------
Info
Ages
21 and Over
Food/Drink
Open bar and appetizers
People
Mixed Crowd
Dress Code
Privledged
Address
268 W 47th St
New York, New York
Phone: 7183009674
Comments & Questions